Rhodesian Ridgebacks
In early 1975, we wanted a bigger dog so Toni went to the RSPCA Yagoona. The shortlist was a Rhodesian Ridgeback and a Great Dane and ended up with Tara, the RR. It was obvious she hadn't had the best start in life and hadn't been well looked after. We almost lost her to health problems in the first week but she recovered and became a devoted family dog but never really wanted to be around men, but we were still hooked on the breed. Shortly after, Khan (Ch Chamwari Valhalla) was purchased from Peter Carr of Chamwari Kennels as a birthday gift for John. We consider ourselves very lucky in Khan being our introduction to showing as he was a 'great dog' - he had a very successful show career and many acknowledged his excellent head properties for which he won many Best Head property classes; John hunted feral pig with him; he was a keen dog on the racetrack; but above all, he was a magnificent devoted, loyal, wonderful companion and family dog. He had some good wins under many of the great breed specialists of the time - most notably Best Dog at a Ribbon Show with Margaret Cook (Lowthian) who was one of the main founders of the breed in the USA, Sammy Wallace (Mushana) Zimbabwe.
Along with an 'acceptable' ridge, we like sound movement on our dogs and consider it an important requirement of the breed. At specialties, we always aimed to win or be considered in the finals of any Best Gait class.
We lost our last RR, Duke, in 2018. Whilst we have no RR's at home, the breed was an integral part of our lives and we still have a love and admiration for the breed.

DUKE - Supreme Grand Ch Elangeni Dream Run
The Specialists Choice!
Duke won 5 BEST IN SPECIALTY SHOWS and several SPECIALTY RUNNER-UP BEST IN SHOW under American, French, English and German breed specialists which means he holds the Australian record. He has also been awarded a Reserve Dog under a South African, Zimbabwean and Australian specialists and a UK specialist awarded him a Puppy In Specialty Show when young plus he has won his class at 11 specialty shows. So Duke is certainly the specialists choice.
We are especially proud of his multiple Best Gait awards and the many compliments he receives. Duke finished No. 2 in the 2009 Dogzonline BOB pointscore. Considering our judging appointments, overseas trip, family commitments, we were extremely proud of his his placing. In 2010 Duke although shown sparingly, was the dog to beat. Only beaten for BOB on 2 occasions in 2010 and winning the breed in good competition with strong numbers he was routinely rewarded by overseas judges. At Junior & Sydney KC shows, he won the breed from strong entries, was cut for group on the Friday and won Runner Up Best In Group both Saturday and Sunday with very large hound group entries (over 200 both days). He backed this up with a BOB and class in group at Dalwood 2 weeks later.
Duke has sired several litters and we expect he will have several more. He has produced some wonderful young progeny who have also placed well at Specialty level. At the NSW Specialty Show, his progeny won BABY IN SHOW, OPPOSITE MINOR IN SHOW and others received placings in the same classes. He has a quality daughter in Finland who finished top in the breed and a son in France who is proving himself as a great sire.
Duke was hip and elbow scored and eyes certified 'normal' by Dr Jeff Smith.
Frozen semen is available to approved bitches and what great semen he has. Under the Camelot system, the vet obtained 9 pellets of very good quality!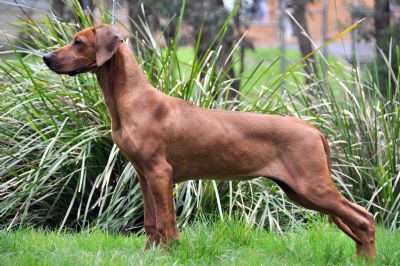 VEGAS - Ch Ozrhode Try And Keep Up - Bred by Steve & Sue from Ozrhode Kennels in Victoria. We were thrilled for the opportunity for Vegas to join us. A daughter of Duke, we were captivated by her baby pics, and then when we saw her at the Specialty, we were won over. And she never disappointed us in the show ring either, with fantastic results in a short time. She was been a consistent class winner at specialty shows, is a big mover with a fantastic ridge - a real chip off the block. Following Vegas' litter in 2014, she has been desexed and now lives with Fred & Nola Douglas (Injana RR's) along with Tom (Ridgesetter Poles Apart) where she is a much loved family companion.
SABRINA - Ch Ridgesetter Magic Spell
Sabrina was our young wild child - very active and thought she was a whippet! However, with age and maturity, she has settled down into a beautiful, sweet dog. A RUBIS speciality winner, Sabrina is a daughter of Zani and inherited her dam's great movement. Her first litter to Duke was early 2010 when she produced 13 lovely puppies. Her second litter to Floyd produced 12 puppies, and in February 2013, she produced 14 puppies to Howie, a Duke son. Sabrina, a sister to the gorgeous Berri (Ch Ridgesetter Magic Berri) who resides in Queensland with Jan Hutcheson, is now desexed and resides in Victoria with Brian where she lives a wonderful life alongside a Greyhound.
ELSA - Ch Ridgesetter How Easy It Is
Elsa is a Sabrina daughter from her last litter and a grand-daughter of Zani. Born in Feb 2014, she titled quickly and easily in ompetition. Like her mum and grand mum, she has an easy gait but her most enduring feature is her sweet nature. Unfortunately, Elsa thinks she is a lap dog and will happily sit on anyone's lap. We made a decision to downsize from RR's and after some thought, offered Elsa to Addam Barter who decided to purchase her from us. We are thrilled with the home Addam has offered Elsa and their achievements in the showring with Elsa winning 2 Best Gaited Bitch awards at Specialtties.
TRIBUTES TO THE PAST:
we consider we've owned, bred or co-owned some great dogs including:
KHAN - Ch Chamwari Valhalla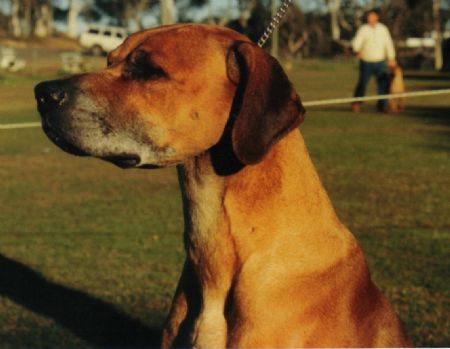 our first, much loved and remembered male. Khan was a multi class in Specialty winner, who did very well at all breeds level in the 1970's. He was a great dog, had an excellent ridge and was renowned and rewarded for his beautiful head. He had a successful show career spanning 10 years - winning Reserve Dog in Specialty when aged 10! He was our first male, our inspiration to continue in the breed and exceeded every expectation. Still missed.
GINA - Ch Ridgesetter Showstoppa - an RR National RUBIS winner and Reserve RR Specialty winner, Gina was consistently awarded for her sound movement and excellent ridge. She had character (disliked the showgring) but she taught us all we know about dog determination, character and showing.
ALI - Ch Ridgesetter Showtime - a BIG winner who proved himself as a sire. He was
a soft and gentle dog with a fabulous conformation but like his sister, Gina, not a lover
of dog shows. Although we showed Ali, he didn't live with us but shared his home with
a Chihuahua.
JAKE - Ch Ridgesetter Touch Ofgold - an RR National Reserve Dog winner and
multiple Specialty Class winner and sire of many champions. He had the best
character and disposition which he passed on to his many progeny. A son of
renowned liver, Kodi, Jake's fame was the consistency of his progeny.
COCO - Ch Ridgesetter Finale - an extremely strong, sound mover,
daughter of Gina with a soft, gentle nature. Due to a allergy condition,
we decided not to mate Coco.
SARAH - Ch Lowehund Double Dare - a specialty BIS winner, multiple
national class winner and a daughter of the wonderful Roxy. A girl
with character and attitude. Unfortunately, Sarah never produced a
litter.
ZANI - Grand Ch Ridgesetter Dzhani - Specialty BIS, multiple BIG winner,
who won Sydney Royal Best of Breed 3 times. Zani was a fabulous
mover and all who visited loved her soft, gentle personality. She loved big
competition and has always gave us 100%. A daughter of the legendary
Roxy, Zani had many of her traits. Zani left us suddenly in 2015 aged 12
and there's not a day goes by that we don't miss her
We consider success in the breed not necessarily breeding a dog, but being able to select the right dog from a litter, decide who to breed with whom and how you raise and train a dog. We have been lucky to have been associated with some great RR's over the years and are grateful to the breeders and owners who have allowed us to co-own and exhibit the following RR's over the years:
ROXY - Ch Nkazimlo Thandi - a multi specialty BIS winner, co-owned
with Gary & Karen Sippl. A special girl who amassed many CC's which would have
made her a grand champion many times over. Loved and admited by many,
Roxy was a once in a lifetime girl. She is our benchmark.
BANYON - Grand Ch Kargnieulan Im Too Win - a multi specialty and all breeds
BIS winner co-owned with Karlie Nieuwenhuis. A son of Jake, with his light,
effortless movement, he was awarded many Best Gait awards.
BREEZE - Ch Lowehund Demi Moore - a gorgeous girl who held her own in
the ring co-owned with Gary & Karen Sippl. Proving type follows type, Breeze
is a daughter of Roxy and dam to Zani. Sadly, Breeze passed to the Rainbow
Bridge in late 2009.
Contact Details
Toni & John Comerford
Douglas Park (near Camden), NSW, Australia
Phone : 61 2 46 309100 / 0431220815
Email :
[email protected]